Pro Audio
Model: -
Rode Wireless GO II Single
Ex Tax: $248.15
Expanding on the original Wireless GO with updates allowing for two-person shoots, onboard recording, a greatly extended range, and flexible output options, the black Rode Wireless Go II Single system lets videographers, vloggers, and mobile journalists confidently and quickly incorporate wireless audio into their setup regardless of their experience level or what device they're recording to. Ideal for creators who only need to record one subject now, but want the option for two subjects later, the Wireless GO II Single comes with a single transmitter and a dual-channel receiver.
1-Person Interviews, Vlogs & Podcasts
Built-In Omni Mic & 3.5mm Mic Input
Mini Clip-On Transmitter/Recorder
Records 7 Hours of Uncompressed Audio
Easy Setup with No Menus
Stereo or Dual-Mono Output Modes
7-Hr Rechargeable Batteries + USB Power
Powerful Features/Customization via App
USB Audio Interface Functionality
Up to 8 Mics on Set / 656' Range
Wireless GO II Single
The Wireless GO II is also available in a single set. Offering the same ultra-compact form factor and unmatched feature set as the original, but with just one transmitter instead of two, it's the ultimate wireless microphone for solo content creators. The receiver in the single set is identical to the dual-channel edition, meaning an additional transmitter can easily be paired for dual-channel recording.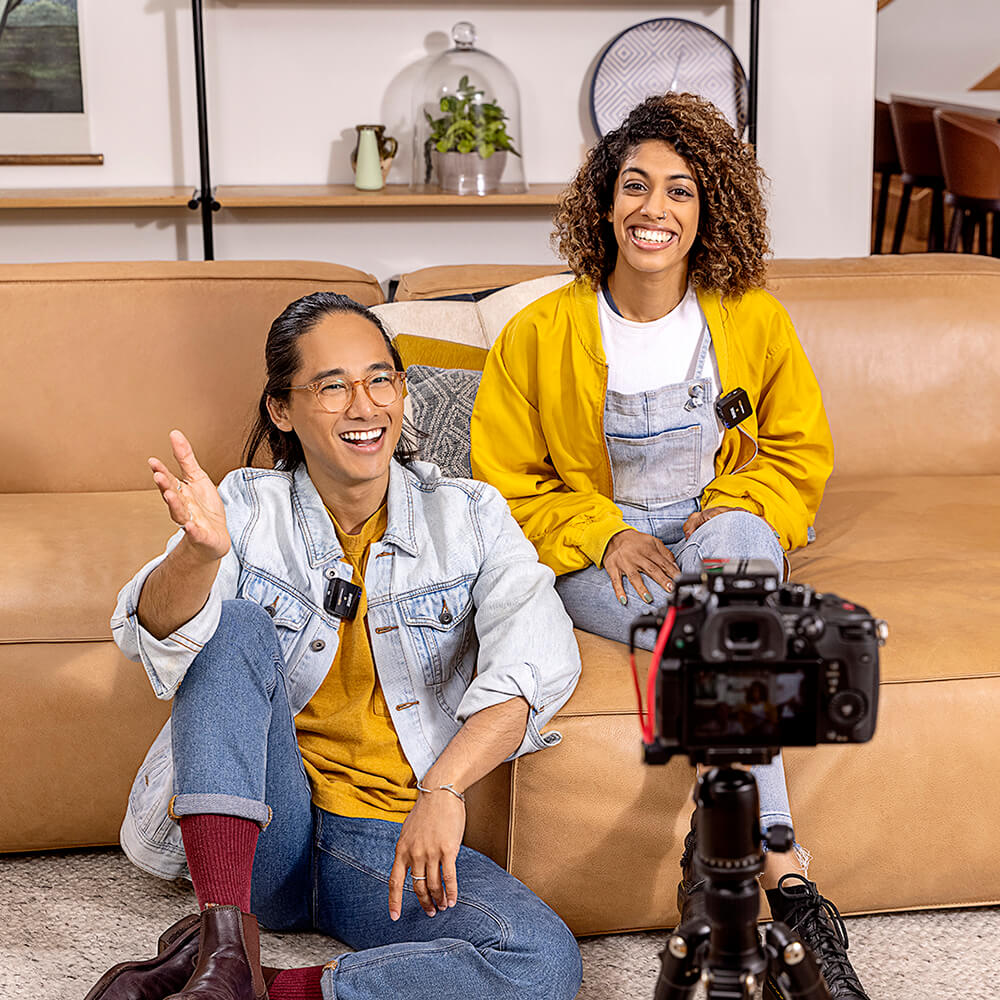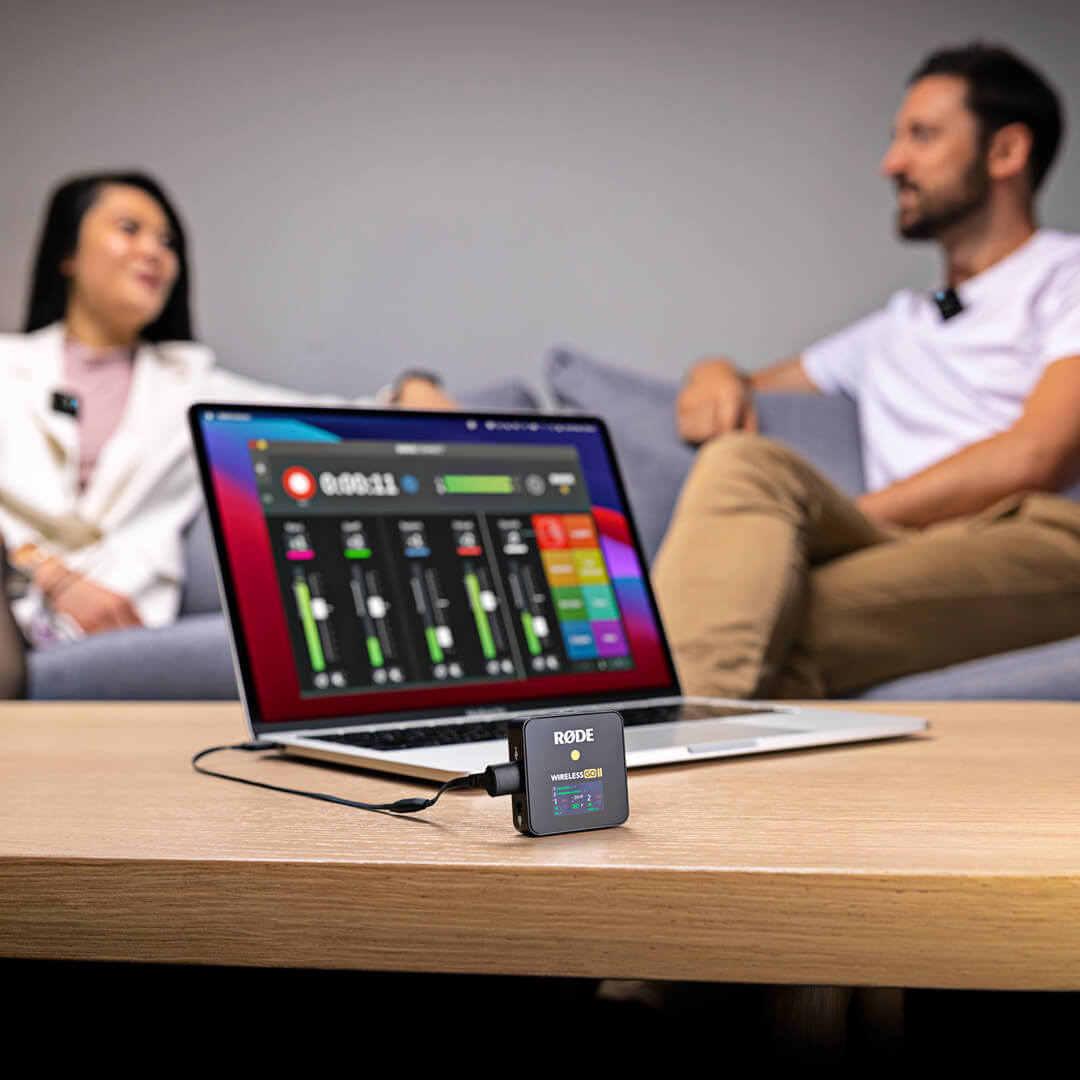 System
Wireless Technology
Digital 2.4 GHz
Included Transmitters
1 x Bodypack with Microphone
Diversity
Non-Diversity
Max Operating Range
656.2' / 200 m
Max Transmitters per Band
4
Built-In Recorder
Yes
Timecode Support
No
Control App Support
Yes, Available for Android/iOS/macOS/Windows
OS Compatibility
macOS
Windows
iOS
iPadOS
Android
Latency
3.5 to 4 ms
Encryption
128-Bit
Receiver
| | |
| --- | --- |
| Receiver Type | Beltpack |
| Mounting Options | Belt Clip (with Included Hardware) |
| Antenna | 1 x Internal |
| Number of Audio Channels | 2 |
| Audio I/O | 1 x 1/8" / 3.5 mm TRS Female Unbalanced Mic Output |
| Gain Range | -24 to 0 dB (12 dB Steps) |
| Network I/O | None |
| USB/Lightning Connectivity | 1 x USB Type-C Female (Audio, Bus Power, Charging) |
| Power Requirements | Battery or Bus Power (USB) |
| Battery Type | 1 x Built-In Rechargeable (Included) |
| Battery Charging Time | 2 Hours |
| Approx. Battery Life | 7 Hours |
| Display & Indicators | 1 x Graphic LCD (AF Level, Battery Status, Metering, RF Level, Transmitter Battery Status) |
| Dimensions | 1.7 x 1.8 x 0.7" / 4.4 x 4.5 x 1.8 cm |
| Weight | 1.1 oz / 32 g |
Transmitter
Transmitter Type
Bodypack with Microphone
RF Output Power
Not Specified by Manufacturer
Audio I/O
1 x 1/8" / 3.5 mm TRS Female Unbalanced Input
Pad
None
Muting
Off/On Switch
Audio Input Level
-20 dBV (Max)
Auto-Level Control
No
Recorder Sample Rates
WAV:
48 kHz (Record)
Recorder Bit Depths
24-Bit
Audio File Formats
WAV
Gain Range
+20 dB
Signal Processing
None
Sync Method
Proprietary
Antenna
1 x Internal
Power Requirements
Battery or Bus Power (USB)
Battery Type
1 x Built-In Rechargeable (Included)
Battery Charging Time
2 Hours
Approx. Battery Life
7 Hours
USB/Lightning Connectivity
1 x USB Type-C (Bus Power, Charging)
Display & Indicators
1 x LED (Sync)
1 x LED (Battery Status)
Dimensions
1.7 x 1.8 x 0.7" / 4.4 x 4.5 x 1.8 cm
Weight
1.1 oz / 30 g
Microphone
| | |
| --- | --- |
| Microphone Type | Integrated |
| Sound Field | Mono |
| Operating Principle | Pressure Operated |
| Capsule | Electret Condenser |
| Polar Pattern | Omnidirectional |
| Frequency Range | 50 Hz to 20 kHz |
| Equivalent Noise Level | 22 dB A-Weighted |
| Maximum SPL | 100 dB SPL |